Butterfly
is an enigmatic recurring element in
Believe
. Usually blue in color, butterflies are seen in the series as both imagery and as an actual living entity (though always blue when appearing as a living entity). There is a great deal of speculation not only about meaning of the butterfly symbolism, but also as to the nature of the "living" version. So far it appears only to be visible to
Bo
and
Tate
.
The blue butterfly is Nina Adams herself, somehow able to manifest herself in this form from beyond the grave.
The blue butterfly is a sort of messenger or guide, sent by Nina from beyond the grave, but not actually Nina herself.
The blue butterfly is a subconscious manifestation of Bo's powers - related to her precognitive ability - guiding her with foreknowledge, and able to be seen by Tate due to their biological connection.
Appearances
Edit
Winter
's "deal."
---
---
---
Tate's father
's house, once again out of place for the gruff ex-boxer.
Channing
as she works to secure Bo's room, a precaution Winter deems "excessive."
---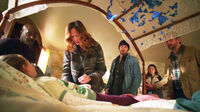 A mobile of several blue butterflies is seen hanging over the unconscious Bo, symbolically watching over her as she suffers from the effects of a tranquilizer dart.
In Bang and Blame, Sarah notes that butterflies remind her of Bo. This points to either Bo's personal affinity toward butterflies, or possibly a past manifestation of the blue butterfly. If the latter is the case, this could mean that Bo and Tate are not the only ones who see the blue butterfly.
Image Gallery
Edit